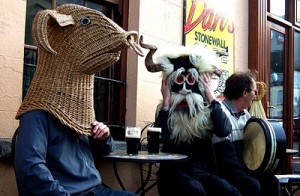 The brown bull of Ulster returned this weekend to Carlingford village in the Cooley Mountains. There he met up with a friend from the Maramures area of north Transylvania for a Gathering. Joined by musicians from Armagh, Derry , Devon and Co Louth the pair exchanged cultural information and toured the village singing and dancing.
The meeting was part of a programme launched by local community groups from both sides of the border. "La Tene" project, named after an ancient Celtic site in Switzerland, hosted Romanian, Hungarian, Polish, Bulgarian and Dutch nationals to a day of folklore, storytelling, music and performance.
"La Tene",s European Dimensions appealed to traditional tastes and was well received in streets, bars and cafes as Lambeg drums from Derry played alongside Armagh Bodhrans,Devon fiddles and Carlingford flutes to the pleasure of local people and their visitors to the historic area.
The brown bull of Cooley from the legend of the Tain shares a pint of Guinness with the "Vilfaim" from Maramures Transylvania during a La Tene Gathering in Carlingford 2011. It was the first time the "Vilfaim" who represents the emotions of the ancient Dacians had a drop of the black stuff.